Below are sample client presentations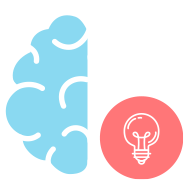 *BONUS: Psychological Branding:
Included in your Custom Design package we incorporate a special "Psychological Branding" overview of your industry and apply it to your design. Our lead design marketers complete this task prior to creating a design presentation. What does this mean? Simple, our marketing team will identify what makes your brand stand out amongst competitors and will help match your brands look and feel with your new logo. This process is probably the single most important thing you can do since you not only want an amazing looking logo but a logo that is effective as well. This bonus process is one of the many reasons why LogoMakr is the best choice for your professional logo design services!
1. Choose Your Design Style
Let us know the type of logo designes you like. This will help us better understand how to design your logo, allowing us to give you exactly what you need.
2. Choose Your Design Style
Let us know the type of logo designs you like. This will help us better understand how to design your logo, allowing us to give you exactly what you need.
3. Receive design proofs
The designers email you logo design proofs so that you can select the one that you like the best. At this point you can email them back changes, fixes or updates that you would like to see made. *Note: You will receive any revised concepts within 24 hours.
4. Give feedback
Provide further feedback if needed. Let the designers know with specifics what changes, fixes, or corrections they need to make to your new logo. The more detailed your feedback is, the easier it will be to bring your design to life.
5. Pick your favorite design
After the designers narrow down your look, they will send you revised design proofs to select from. From here you will choose the design that you like best.
We send you your final logo!
Once you sign off on the logo you like best, we will then send you your finalize "vector" formatted logo! A vector logo is a logo that you can blow up as big as you want so that you can put your logo on items such as, t-shirts, billboards, pens, business cards, letter-heads, websites and so on.
Welcome to Logomakr, 2020's top-rated pick for custom logo design. Get started today and our professional designers will create a logo you will not only love but fits your brand's identity!

"Amazing professional team to work with. They just finished a project for me. Noel and the team provided very professional design options from the start of the project. They provided good suggestions and clear clarifications to our comments. We are very happy with the final product after only a couple of iteration/revisions. We will definitely work with them again if another project is required and I definitely recommend them."
"I've been wanting to repair my logo for quite some time now and decided to search for a logo company. What attracted me was not only the extensive portfolio but the fact that they actually had a dedicated section to repairing logos. I really loved my original logo (as I created it myself and seemed to get peoples attention) but it definitely needed an upgrade. I decided to "risk" it. I can honestly say that is the best choice I ever made..."
"Roxana my project manager was patient, prompt and helpful. Couldn't have asked for anything more. Loved the website as well. Thanks you guys."
"I tried a couple of different logo making sites & only became frustrated. Then I tried LogoMakr. Now it sounds corny, but truthfully, until I landed on this site my logo making days were not going well. I made a logo that I truly felt proud of, then Adam & David from LogoMakr went above & beyond to make better. Koodos to LogoMakr. They treated me like I like to treat my customers. Will definitely use this site in the future & highly recommend them to everyone."
"Looked at a few websites and I fell in love with my logo on LogoMakr, Adam and Shirley are absolutely brilliant in helping you shape your dream and I cannot thank them enough for all the hard work they do. Will definitely recommend to everyone!"
"I am very satisfied with the quality of you and your team's work! Anabella was excellent at responding to my questions and requests. Her team works fast and are very creative! 🙂 my logo for zooTEApia was created by this team! :)"
"I received great support from the team that did assist me with several technical questions regarding my logo management. I wish all post sales support were like you guys!"
"Excellent service, reasonable prices, excellent customer support. 100% recommended."
"Awesome service! Very easy to use, great results and the customer service is great. I definitely recommend LogoMakr :D"